Cornelia Otis Skinner (Author/Actress)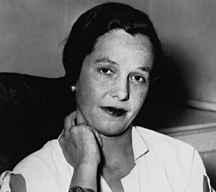 Cornelia Otis Skinner (May 30, 1899 – July 9, 1979) was an American author and actress.
Skinner was the daughter of the actor Otis Skinner and his wife Maud (Durbin) Skinner. After attending the all-girls' Baldwin School and Bryn Mawr College (1918–1919) and studying theatre at the Sorbonne in Paris, she began her career on the stage in 1921.
She appeared in several plays before embarking on a tour of the United States from 1926 to 1929 in a one-woman performance of short character sketches she herself wrote. She wrote numerous short humorous pieces for publications like The New Yorker.
These pieces were eventually compiled into a series of books, including Nuts in May, Dithers and Jitters, Excuse It Please!, and The Ape In Me, among others.
With Emily Kimbrough, she wrote Our Hearts Were Young and Gay, a hilarious description of their European tour after college. Kimbrough and Skinner went to Hollywood to act as consultants on the film version of the book, which resulted in We Followed Our Hearts to Hollywood.
Skinner was portrayed by Bethel Leslie in the short-lived 1950 television series The Girls based upon Our Hearts Were Young and Gay.
In 1952, her one-woman show Paris '90 (music and lyrics by Kay Swift) premiered on Broadway. An original cast recording was produced by Goddard Lieberson for Columbia Records, now available on compact disk.
In later years Skinner wrote Madame Sarah (a biography of Sarah Bernhardt) and Elegant Wits and Grand Horizontals about the Belle Epoque. She also appeared with Orson Welles on The Campbell Playhouse radio play of The Things We Have on May 26, 1939.
Related Links:
Cornelia Otis Skinner on Wikipedia