Cindy Gallop (Change Agent / Amazing Woman)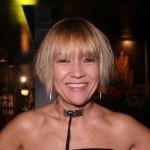 Susan notes: Thanks to TED for making TED Talks downloadable and embeddable, and for providing the biographical information that goes along with them.
Cindy Gallop took a risk when she entered advertising, and hasn't stopped taking them since. She began her early career in the UK as a theater publicist, until an audience member declared that she could "sell ice to an Eskimo," and advised her to make the jump to advertising.
Four years later, she joined one of the fastest growing agencies in Europe, Bartle Bogle Hegarty. In 1998, she moved to New York, alone, and began building their US branch. Four years after that move, BBH US was named Adweek's Eastern Agency of the Year.
After all her success in the agency world, Gallop resigned as chairman of BBH in 2005 to do something different. Today, she continues to work in branding and advertising as a consultant, but is also tending some fascinating projects of her own.
She launched MakeLoveNotPorn at TED2009, in an attempt to squash the myths of hardcore pornography and to begin a dialog around how real people have sex. In January 2010, Gallop will officially launch IfWeRanTheWorld, a simple, web platform designed to bring together human good intentions and corporate good intentions, and turn them into collective action.
Related links: