Christina Lampe-Onnerud (Battery Pioneer)
Susan notes: Christina Lampe-Omeruf is one of 15 amazing women on stage at #TED2011. We're working hard to get TED to work harder on gender parity. ADD YOUR VOICE HERE.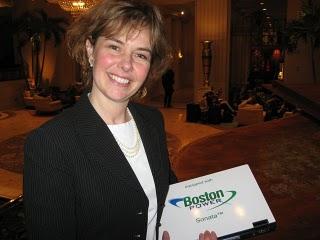 Dr. Christina Lampe-Önnerud is a well-known authority in the battery industry. She has pioneered the use of lithium-ion and other materials to deliver more powerful, longer lasting, safer, cost-effective and environmentally sustainable batteries for applications ranging from laptops to electric vehicles and utility energy storage.
Prior to founding Boston-Power, Dr. Lampe-Önnerud was one of the youngest partners ever appointed at Arthur D. Little/TIAX, where she ran the company's globally-renowned battery labs, defined strategies for the world's top chemical and battery organizations, and directed high-profile market evaluations.
Related Articles