Children On Both Sides Of Palestinian-Israeli Conflict Suffer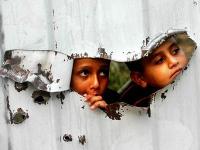 Actress Mia Farrow headed back to the United States on Sunday haunted by the image of a young girl who spoke in a tiny voice of the destruction of her home and the death of her loved ones in the Gaza war.
"There was fear on her face and she spoke in a tiny voice... of the injustice," the 64-year-old actress said in an interview with AFP as she wrapped up a week-long visit to Israel and the Palestinian territories as goodwill ambassador for the UN Children's Fund (UNICEF.)
She said she'll never forget the face of the 12-year-old who told her "about about when her house was destroyed, the people who were killed."
Farrow also recounted visiting a Gaza hospital where "doctors had to make the agonising decision to release babies of only one kilo (2.2 pounds) because there weren't enough viable incubators and they can't get spare parts in."
Gaza is under a crippling blockade Israel imposed after the Islamist Hamas movement violently seized power in the impoverished, overcrowded Palestinian territory in June 2007.
In December 2008, Israel launched a devastating military offensive in response to Gaza rocket fire. About 1,400 Palestinians, hundreds of them non-combatants, and 13 Israelis died during the 22-day onslaught.
"If there is one overriding impression it is how profoundly leadership has screwed up in this region, in Israel and in the Palestinian territory and at what cost to the most vulnerable, the children, the elderly, the innocent," said Farrow.
Farrow also visited the Israeli city of Sderot, which has borne the brunt of the rockets attacks from Gaza, just a few kilometres (miles) away.
She said she heard of children in Sderot not being able to sleep at night, waking up in terror.