Child Brides Suffer More Later In Life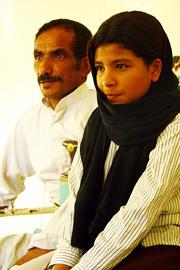 Long gone is the kohl, the henna paint and the white wedding dress she wore at her wedding. A life of hard work and early labour has caught up with Badria.
Married at 14, she had her first child at 16 and then five more in quick succession, including three miscarriages. Now in her forties her body is succumbing.
"I was responsible for the children and working on our farm," said Badria.
Since her first pregnancy Badria has suffered from "bone ache", a condition for which the doctors gave her drugs, but were never able to diagnose or cure.
For 11 years she has suffered from a slipped disc after having to collect wood, fetch water, work in the field and have children from a young age.
"Most days I just feel sad," said Badria.
She also suffers from vaginal prolapse, where the muscles, ligaments, and skin in and around a woman's vagina weaken or break.
"These are all symptoms of early marriage," said Arwa Elrabee, a gynaecologist in Sanaa. "These marriages are mostly about suffering."
According to NGOs, health staff and researchers, there are many physical and psychological problems with early marriages, but no studies have been carried out on the long-term effects.
Medical complications

Elrabee sees around 100 patients a day. Her waiting rooms are full of black clad women wearing the `niqab' (veil) common in Yemen. Many sit on the floor waiting patiently for their turn. "I have worked with women for 25 years," she said. "I see the effects of early marriages every day."

According to the 2008 International Women's Health Coalition report Child Marriage: Girls 14 and Younger At Risk, young girls run a higher risk of complications in pregnancy and childbirth than older adolescents because their bodies (bone structure, pelvis, reproductive organs) are not yet fully developed.

Many experience prolonged and obstructed labour which can lead to haemorrhage, severe infection and death. Other complications commonly include eclampsia and obstetric fistula, and vaginal and anal ruptures.

Numerous pregnancies from an early age and strenuous work take their toll. "Many women simply become handicapped by early marriages," said Elrabee.

Just under half of Yemeni girls - 48 percent - are married before they turn 18, according to the Washington DC-based International Centre for Research on Women. This is classified as "underage", according to the UN Convention on the Rights of the Child.

Click here to read the full story:
IRIN News
Photo Credit:
Annasofie Flamand/IRIN

Related links:
More About Child Brides on AWR