Cherelle Jardine (Singer/Songwriter/Producer)
Posted by Mary Jardine
November 6, 2009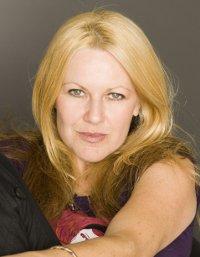 Cherelle Jardine, singer, songwriter and producer of "Musical Expressions," is an amazing woman (and I'm not just saying that because she's my daughter!)
Born in Toronto, Ontario, Canada, with moves in childhood to the Goderich area and then to Banff, Alberta she found music was the love of her life and proceeded to make her dream a reality by moving to Vancouver, British Columbia.
Cherelle was one of the founders of the Pacific Alliance of Independent Recording Artists and also served as President of the Pacific Songwriter's Association.
She continually promotes other artists, inviting them to perform in her show "Musical Expressions". In the summer you will find this series at the Britannia Heritage Shipyard in Steveston from July to September, in the fall, from October to May at the Culteral Centre in Richmond. She is also in charge of booking entertainment for the Steveston Maritime Festival each August.
Cherelle has raised her daughter, worked a 9 - 5 job and gives of herself to her community. She has been nominated for the Ethel Tibbits Women of Distinction Award in 2005, 2006 and 2009 and the Richmond Arts Award in 2009.
She helps in many fundraising events. The proceeds from her DVD "Nothing Left to Say" go to Kids Help Phone and has donated her time to concerts "Project Mabuhay" is one for example which help pay for equipment for the doctors who go to help the people in the Philippines at their own expense.
At present she is in the studio recording her 5th CD which will feature her 19-year-old daughter on vocals and guitar. It will be released on 12 February, 2010 at the main stage during her performance with her band "The Jardines" at the Winter Olympics opening.
Related links:
CherelleJardine.com