Catherine Mohr On Surgery's Past, Present And Robotic Future
Susan notes: Thanks to TED for making TED Talks downloadable and embeddable, and for providing the biographical information that goes along with them.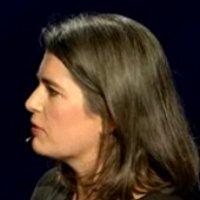 Surgeon and inventor Catherine Mohr tours the history of surgery (and its pre-painkiller, pre-antiseptic past), then demos some of the newest tools for surgery through tiny incisions, performed using nimble robot hands. Fascinating -- but not for the squeamish.
Catherine Mohr began her career as an engineer, working for many years with Paul MacCready at AeroVironment to develop alternative-energy vehicles and high-altitude aircraft. Her midcareer break: medical school, where she invented a brilliantly simple device, the LapCap, that makes laproscopic surgeries safer.
Mohr now oversees the development of next-generation surgical robots and robotic procedures, as the director of medical research at Intuitive Surgical Inc. She also works at Stanford's School of Medicine, where she studies simulation-based teaching methods to teach clinical skills to budding doctors. And she's a senior scientific advisor to the GlobalSolver Foundation, an innovative funding and study group that looks at ways to match up scientists and money to help the world's oceans.
Related Articles