Carolyn Porco: Could A Saturn Moon Harbor Life?
Susan notes: I've copied and pasted this biographical information and talk unabashedly from the TED website.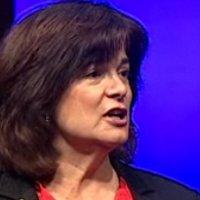 Carolyn Porco shares exciting new findings from the Cassini spacecraft's recent sweep of one of Saturn's moons, Enceladus. Samples gathered from the moon's icy geysers hint that an ocean under its surface could harbor life.
Planetary scientist Carolyn Porco studies and interprets the photos from the Cassini-Huygens mission, orbiting Saturn and its largest moon, Titan. She and a team of scientists from NASA and the European Space Agency have been analyzing the images that Cassini has been sending back since it left Earth in 1999. They've found many new rings and four new moons (so far). And they've produced breathtaking images and animations of the stormy face of Saturn, its busy rings, and its jumble of moons and moonlets.
Back in the mid-1980s, while still working on her doctorate, Porco was drafted onto a team at JPL that was crunching the mountains of data coming back from the Voyager fly-by of Saturn. Her work on the planet's "ringlets," and on a spoke pattern noticed in the rings, made an important connection between Saturn's rings and its magnetic field -- and cemented her connection with Saturn.
Related Articles