Carol Queen (Sociologist/Sexologist)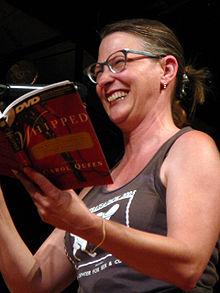 Carol Queen is an American author, editor, sociologist and sexologist active in the sex-positive feminism movement. Queen has written on human sexuality in books such as Real Live Nude Girl: Chronicles of Sex-Positive Culture.
She has written a sex tutorial, Exhibitionism for the Shy: Show Off, Dress Up and Talk Hot, as well as erotica, such as the novel The Leather Daddy and the Femme. Queen has produced adult movies, events, workshops and lectures.
Queen was featured as an instructor and star in both installments of the Bend Over Boyfriend series about female-to-male anal sex, or pegging. She has also served as editor for compilations and anthologies. She is a sex-positive sex educator in the United States.
In 1975, Queen helped to found GAYouth, one of the first youth organizations for gays and lesbians, in Eugene, Oregon, where she was studying Sociology.
When University leadership demanded the names of all GAYouth members, the organization was soon dismantled so as to not compromise the privacy of its members.
Queen moved to San Francisco in the late 1980s to obtain a sexology degree at the Institute for Advanced Study of Human Sexuality. Queen claims she kept dropping out (of school) to go learn on the street.
Part of her immersion in the local San Francisco sex culture involved getting a job as a stripper at the strip-club The Lusty Lady, working as a prostitute, attending local sex parties such as the Jack and Jill Parties (which Queen later went on to host herself), initiating her own "Queen of Heaven" paganism-inspired string of sex parties, writing essays and poetry about sex for local magazines, and became a safer sex advocate in 1986 in Eugene Oregon at the Willamette AIDs Council in response to the AIDS crisis.
Queen, together with her partner Robert Morgan Lawrence are the co-founders of the 501(c)3 education San Francisco based non-profit Center for Sex and Culture. The mission of the CSC is to "provide non-judgmental, sex-positive sexuality education and support to diverse populations by means of classes, workshops, social gatherings, and hands-on, practical skills-building events". The CSC was formed as a nascent non-profit in 1994 on the suggestion of Betty Dodson.
It was formed in order to establish a name as a large non-profit research library and archive the collection of sexually-related materials Queen had assembled up to that time, and in order to provide a place for sex educators to work. To this day, the CSC still receives and accepts donations of archival material.
Queen began her higher education in 1974 at the age 16 at the University of Oregon Honors College. She graduated Cum Laude from the Sociology department of University of Oregon (Phi Beta Kappa) in 1985. She maintains a PhD degree from a private educational institution, the Institute for Advanced Study of Human Sexuality in 1998.
Queen serves as staff sexologist to Good Vibrations, the San Francisco sex toy retailer. In this function, she designed an education program which has trained many other current and past Good Vibrations-based sex educators, including Violet Blue, Charlie Glickman and Staci Haines.
Queen is known as a professional editor, writer and commentator of works such as Real Live Nude Girl: Chronicles of Sex-Positive Culture, Pomosexuals, and Exhibitionism for the Shy. She has written for juried journals and compendiums such as The Journal of Bisexuality and The International Encyclopedia of Human Sexuality. She is currently in over 70 anthologies.
Queen has popularized the term "pomosexual" to refer to the post-modern sexual to describe a person who avoids sexual orientation labels.
The neologism absexual has also been introduced by Queen, although it was coined by her physician husband.
Based on its prefix ab- (as in "abhor" or in "abreaction"), it represents a form of sexuality where someone is stimulated by moving away from sexuality or is moralistically opposed to sex.
Betty Dodson defined the term as describing "folks who get off complaining about sex and trying to censor porn."
As of 2010 absexuality is not an "official" psychiatric term; though note the mention of absexuality in a psychiatric manual in 1988, a decade before Carol Queen popularized the concept in feminist circles.
Queen has proposed inclusion of the concept in the American Psychiatric Association's forthcoming DSM-V (scheduled for publication in 2013).
Darrell Hamamoto sees Queen's view of absexuality as playfully broad: "the current 'absexuality' embraced by many progressive and conservative critics of pornographic literature is itself a kind of 'kink' stemming from a compulsive need to impose their own sexual mores upon those whom they self-righteously condemn as benighted reprobates."
In 2000, Queen together with her partner Robert Morgan Lawrence published a jointly written essay in the Journal of Bisexuality detailing the role of San Francisco bisexuals in the development of safe sex strategies in response to the emerging AIDS crisis in the 1980s. Queen detailed her and Lawrence's development of a safe sex version of the SAR or Sexual Attitude Reassessment training, which they termed Sexual Health Attitude Restructuring Process or SHARP. Originally a program started by the IASHS, SHARP is described as a combination of "lectures, films, videos, slides, and personal sharing", as well as "massage techniques, condom relay races, a blindfolded ritual known as the Sensorium which emphasized transformation and sensate focus, and much more." In 2007, Queen expressed the intention to revive the SHARP training, now referred to as SARP or Sexual Attitude Reassessment Process.'
Queen is a pagan and wiccan. In 2009 Queen and her partner Robert Morgan Lawrence were sainted in public by the Catholic-themed drag performance group Sisters of Perpetual Indulgence (SPI). Carol Queen has produced collage artwork in which Christian imagery of Mary (mother of Jesus), Jesus and the Catholic Saints is mixed with close-ups of male and female genitalia: "always with sexual and spiritual content; they riff off the archetype of the Sacred Whore".
These collages have been exhibited at the Femina Potens Art Gallery of the American adult actress Madison Young. and the Sex Worker Film and Arts Festival of 2005. The unreleased documentary Two Queens by the Californian film-maker Magen Callaghan concerns Queen's relationship to her born-again Christian younger brother, John Queen. Queen has said of her Christian bother: "John, I expect, thinks I'm going to hell. He might be right, but I'm going to sit in Mark Twain's lap the first chance I get. Benjamin Franklin will be there too, I expect, and eventually I'll meet Bill Clinton. And what about all the excellent whores in history, all my foremothers and sisters? We'll be partying. Ironically, I also expect to meet John's idol Woody Allen."
Related Links:
Carol Queen on Wikipedia
CarolQueen.com