Carey Appel Makes Music For The Love Of It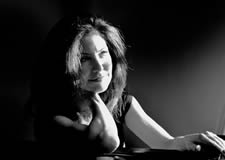 A true inspiration to women of all ages, Carey Appel is the true definition of second chances, believing in your dreams, and never giving up.
Growing up in Los Angeles, Carey loved to sing. And people loved to listen. Since age 3, her natural talent never went unnoticed.
Compared to the likes of Julie Andrews, "Such a grown up voice for such a little girl" was the comment often heard.
While she didn't have any formal music training, she participated in grammar school musicals and school choir. But she didn't take her passion seriously and eventually gave up.
Though she wasn't an active musician, Carey kept singing in her back pocket while she pursued other endeavors.
She graduated from UC Berkeley with a BA in Art History, became a wife, mother of two beautiful girls, businesswoman -- opened Salutations Home, a chain of successful retail gift and home stores in Southern California.
Years later, after a brush with cancer, she decided that life was too precious to not follow your heart and do what you love. Thankfully, with the help of an old friend, shewent back to her one true passion and has never looked back.
Carey worked with a vocal coach, immersed herself in the music scene and began performing at local coffee shops until a few of her songs received radio time. And then came her very first album, "New Favorites."
Her production company, aptly named Heather Road for the street she grew up on, produced the album this year along with the gifted and talented composer Dan Siegel. Music critics have labeled "New Favorites" as a: rich tapestry of aurally seductive vocals, soulful melodies, and beautiful arrangements that combine to move the most diverse palettes.
Re-igniting the passion she's had since she was 3 years old has transformed Carey's life and she feels blessed to be doing what she loves every single day. When Carey isn't singing, she is mentoring young musicians, writing new music, and lending advice in hopes on leading them on the road to self-discovery.
Her number one piece of advice is to "do what you love." She encourages young and old musicians alike to continue to educate themselves and strive for the best. "You can't put your passion on a shelf to collect dust. There's no time like the present to pursue your dreams."
Carey is currently writing and self-producing her second album, and is proud to only take songs that resonate with her. She chooses what she singsvery carefully and has to feel a song before she can call it her own.
Carey lives in Los Angeles and performs at local venues and private events. As her music is incorporating elements of soul, R&B and singer-songwriter, her goal is for her music to be a top feature in the "Coffeehouse" genre.
careyappel.com
facebook.com/careyappel
youtube.com/careyappel