Canadian Journalist Still Being Held Captive In Somalia
As anniversaries go, it's a bleak one – and only Amanda Lindhout herself truly knows how bleak.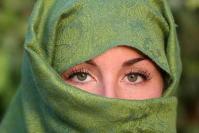 It was one year ago today that the Alberta-bred journalist and two colleagues were kidnapped at gunpoint in Somalia, plucked from a road near Mogadishu.
Since then, little has been seen or heard of the 28-year-old Sylvan Lake native, aside from a mute video of her and Australian reporter Nigel Brennan kneeling before their masked and armed captors aired on Al-Jazeera television weeks after they disappeared, and a few scattered, horrifying calls to media outlets by a distraught woman claiming to be Amanda Lindhout in recent months in which she essentially pleads with the Canadian government to save her life.
TheStar.com
Photo is a self portrait from Amanda Lindhout's Facebook page