Canadian Correspondent Gets a Taste of Culture Shock
Excerpt from an article by Canadian journalist Stephanie Nolen, who recently moved to India after being posted for several years in South Africa.
Men stare at me incessantly, with an assessing curiosity that is not friendly. Young men follow me in the street, even when I am carrying my young son. When I'm alone, they call out to me, or make sucking noises. In India, it's known by the dismissive term "Eve teasing" – it's pervasive, unrelenting sexual harassment by strangers.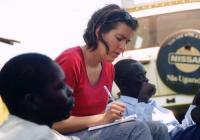 I don't yet know whether I get more of it, as a visible foreigner, or less than an Indian woman would get in similar situations, but it's alienating and unpleasant regardless. New friends here tell me it can, if you're unlucky and caught alone, easily escalate from harassment to assault. One foreign journalist colleague, walking with her male colleague, also a foreigner, was recently set upon – at noon in a crowded market – by young men who groped her so aggressively, she had to run away and, a week later, had livid, purple bruises from the "fondling."
Sub-Saharan Africa, of course, is no bastion of gender equality – I covered horrific incidents of mass rape, child marriage and female genital mutilation. Yet somehow I am reminded more incessantly of the sexism here. It started when I signed our lease, and had to provide either my father's name or my husband's. I've had to adjust to the fact that every repair person, shopkeeper and many potential staff members utterly ignore anything I say to them, waiting for the voice of authority, my male partner, to tell them what they really ought to do.
STEPHANIE NOLEN
Globe and Mail (Canada)