Burmese Writer Longs For Home, Despite Having Been Imprisoned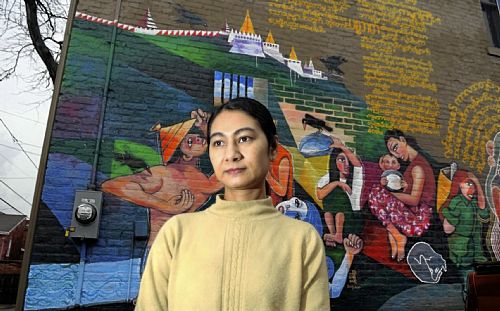 It's hard to imagine, sitting with Khet Mar in her fragrant home on Sampsonia Way, that this is the same world in which prison guards would kick a tiny woman for hours and a short story about loneliness would intimidate the generals.
In City of Asylum Pittsburgh, an enclave in the Central North Side, Khet Mar is safe from persecution but sometimes, she said, her heart aches to be back in Burma.
"Sometimes," she said, her hands stacked like saucers in her lap.
"I want to be helping political prisoners."
The country in Southeast Asia that was officially renamed the Union of Myanmar in 1989 has been gripped by military repression for five decades.
It is the country of Aung San Suu Kyi, in whose shadow Khet Mar organized protests, distributed pro-democracy writings and was regularly arrested, beginning in her student years at the University of Yangon.
A poet, essayist and fiction writer, Khet Mar, 42, said her grandmother, whom she adored and lived with as a young girl, "told me stories about colonialism before we went to sleep." The stories of living under British rule sounded almost romantic in comparison to the military junta she grew up under.
Khet Mar -- whose name, like all Burmese names, represents neither a given nor a family name -- is City of Asylum Pittsburgh's third resident writer. She was chosen to come here because her situation was known by several organizations that refer people in need, said Henry Reese, a co-founder of City of Asylum Pittsburgh.
He and his wife, Diane Samuels, founded City of Asylum Pittsburgh in 2004 when they bought a house near their own and fixed it up as a refuge for persecuted Chinese poet Huang Xiang.
The couple, whose home is City of Asylum's headquarters, has since renovated homes on the alley for novelist Horacio Castellanos Moya of El Salvador and Khet Mar. Her husband, artist Than Htay Maung, painted a wrap-around mural with Burmese writing on the house where they live with their sons, who are 14 and 10.
City of Asylum raises money to pay rent and offer a living stipend, medical coverage and other assistance for two years. Writers can stay longer and pay as they can. "We want to make sure the writers can continue to write and earn adequate income," said Mr. Reese.
Earlier this month, an audience of 25 at a City of Asylum reading listened rapt as Khet Mar read from "Life on Death Row," her biographical story about being housed with death-row inmates while she was imprisoned.
"I picked up my small pile of clothes, said goodbye to my cell mates and followed the guard to my new cell, with prisoners sentenced to death," she said.
She was sentenced to 10 years, but the new general in power granted her amnesty after one. "I am grateful to him," she said, allowing herself a wan smile.
In the following years, Khet Mar worked as a journalist, taught at a middle school and worked at an orphanage for children whose parents had died of AIDS. Throughout the years, she was arrested and interrogated for pro-democracy activities. She now has temporary legal status in the United States.
In Pittsburgh, she is a rare voice of Burma, where the domino effect of recent uprisings in the Middle East has energized young people.
Khet Mar is often asked whether her country might be poised for successful revolution.
"The young people are stronger and braver" because of the release of Aung San Suu Kyi from house arrest last year, she said. "The young people want to be like the people in Egypt. They have been distributing statements and some have been arrested. But the older people are afraid.
"We have to wait for a long time." Ethnic tensions and suspicion within ethnic groups are obstacles, as is government interference with the Internet.
Khet Mar reads her work throughout the city and continues to write for Burmese magazines, where she deals with government censorship.
In an interview in City of Asylum's online magazine Sampsonia Way, Khet Mar told managing editor Silvia Duarte about the censorship of one of her first stories to be accepted when she was a university student. It was about a girl in a room behind bars.
"The windows in Burma are open all the time because of the heat, so they all have iron bars," she told Ms. Duarte. "In my story, I told in detail how this girl felt lonely. The censorship officers thought I was writing about Aung San Suu Kyi. But the story was not about her; it was actually a story about loneliness. The censorship officers in my country are paranoid."
Click here to read the full story:
By Diana Nelson Jones
Pittsburgh Post-Gazette
Photo Credit
Bill Wade