Brigitte Berman Speaks Out Against Bullying (TEDxRedmond)
Susan notes: Thanks to TED for making TED Talks downloadable and embeddable, and for providing the biographical information that goes along with them.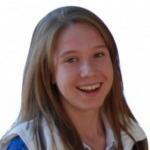 Something too many students go through, where yet few speak up, bullying is an issue which continues to challenge.

In eighth grade, Brigitte Berman decided to do something. After writing Dorie Witt's Guide to Surviving Bullies, she spent a year touring to speak about bullying.

Though Brigitte has been featured in media nationally and internationally (CNN Headline News, Good Morning America, ABC Radio Australia, and Voice of America, to name a few), Brigitte's campaign against bullying extends beyond TV screens; she testified at the Massachusetts State House in support of bullying legislation.

In 2009, Brigitte designed the shuttle mission patch for NASA's External Reentry MAC STS-125. In 2010, Brigitte imaged the re-entry of the Japanese space probe, Hayabusa, in a NASA airborne observation. In doing so, Brigitte became the youngest person ever to participate in a NASA Mission.
Related Articles