Breast Cancer Triumph: Lisa Norman's Story
By Lisa Norman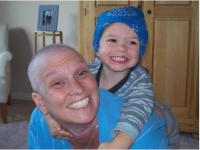 Susan notes (October 16, 2010): I've just made my annual Breast Cancer Awareness Month visit to Lisa Norman's blog to find that she is still cancer free after two and half years. She's finished with Tamoxifen and is onto a three-year course of Anasrozole, she's had more reconstructive surgery and posted some amazing photographs of the resulting bruises. Brava Lisa!
Susan notes (October 18, 2009): Lisa Norman's story was one of the first to be posted on AWR after I launched the site in August 2008. Over the last year, we've rarely been in touch - both of us no doubt busy fulfilling our respective life purposes...

When I clicked on Lisa's blog link today, iit had been many months since I had visited "Lisa's Breast Cancer Journey." I was overjoyed to find that Lisa's hair has grown back, her smile shines brighter than ever and she continues to fight.

Thanks Lisa, for continuing to be an inspiration to the women in your circle, your community, and around the world. No doubt about it, you ROCK!
Last year, at this time, I had NO IDEA that I had bilateral breast cancer.
On a dare from my sister, I decided to have my first mammogram at age 41. I was slated for an October appointment, but a pressing matter in my quest for my Masters degree arose, and I chose to rebook.
The next available opening was in December - so I booked it.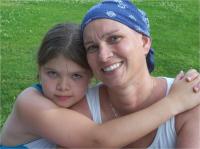 After the mammogram, I was called back the next day. Apparently this was "normal" for the first time. My friends and family assured me things were okay because they had been called back in too, and they were okay.
So I went in for an ultra sound, and another mammogram. When I didn't hear anything right away, I assumed that I was fine.
It wasn't until the New Year that my results were released. I had right breast DCIS (ductal carcinoma in situ).
Shock, Then Surgery
I was in shock. This couldn't be happening to me. My first instinct was to begin researching my options. It didn't take me long to decide that I would have a double mastectomy and reconstruction.
I wasn't going to let the cancer recur. Both breasts would go.
Surgery to clear the margins on the right breast exposed a tumor in my left breast. The surgeon noticed a "calcification" on my ultra sound results, and decided to take it out at the same time. This proved to be my invasive tumor.
Through friends, I was immediately connected with the top breast cancer oncologist in North America - Karen Gelmon. She's in Vancouver, which meant air travel, but every trip has proved worthwhile.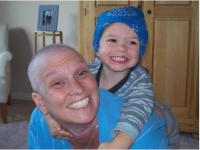 Karen hooked me up with a female surgeon to complete the mastectomy, AND another phenomenal female surgeon to complete the DIEP (deep inferior epigastric perforator), reconstruction that I had wished for.
Twenty-two days before the surgery, I started a blog -
Lisa's Breast Cancer Journey
.
It was a good way to keep people involved and informed about what was happenting with me. Friends, acquaintances and even family could go there to get updates, learn what would happen with my DIEP surgery and find out how I was doing. It was a great way to stay connected.
We had a 22 day count down to the surgery, and I asked everyone to wear pink and send prayers and good energy my way on the day of the surgery itself. I'm so thankful for
all the support I got
, it really helped me to stay positive.
On April 25, 2008, I endured a 15-hour surgery. One frozen section proved lymph node involvement on my left side. The other side was clear.
I elected for chemotherapy, and I finished my fourth treatment in August. I don't have to have the full course of six or eight (very lucky me).
Honouring the Journey
This week I fly back down to Vancouver for a follow-up visit with Karen, my oncologist, and Sheina, my plastic surgeon. I'll have a hysterectomy this fall, and continue with my hormone treatment.
I am surviving!
Today was the Canadian Imperial Bank of Commerce (CIBC), Run for the Cure in my town. While the chosen breast cancer survivor spoke - I broke down in tears. I felt the journey all over again. I have had my head down and been chuggin' along.
Today, I was given a gift – time with fellow survivors to pay tribute to our journey.
I've never really thought that this diagnosis was impossible to beat. I always knew that a few cancer cells would not, and could not, take down this old bird. But the journey so far has been one heck of a learning experience. The network of survivors needs to be honoured.
For me, breast cancer has been a great challenge, and an even bigger triumph!

Click here to see where Lisa's journey has taken her since she first posted this part of her story in 2008.