Brave South African Teen Goes Beyond Bullets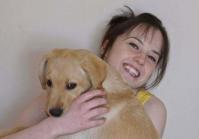 By the time the second bullet struck her spine, 18-year-old Razelle Botha was bleeding so badly she thought she was going to die right there in her bedroom in Pretoria, South Africa.
The force of the next three bullets sent her flying across her bed and suddenly the teen was fighting to take her next breath.
Her arms became heavy. She couldn't move her legs.
A few days later, doctors told Razelle she would likely never walk again.
It was just over a year ago, while still in a hospital bed, that Razelle (shown here with her dog Whooki), decided she wanted to escape the violence of South Africa, move to a "safer haven" and begin anew in Calgary, Canada.
Photograph by: Courtesy