Beyond Amazing Susan Boyle Rocks The World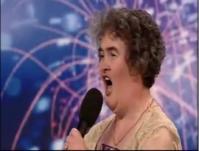 April 19 update: 28 miliion and 144,000 YouTube views and comments respectively on the video clip AWR is tracking.
Susan notes: 12 hours after I posted this story, YouTube views and comments had climbed to over 10 million and nearly 60,000 respectively. An ordinary 47-year-old unemployed, unmarried woman who lives alone with her cat inspires millions of people around the world with her dream, a song and the gift of hope. Who says one person can't change the world?
Less than a week ago, 47-year-old Susan Boyle was unemployed, and pretty much unknown beyond her hometown (in her own words: "a collection of villages"), outside of Edinburgh, Scotland.
As of last night at midnight (Dubai time), the video of Boyle's audition performance for Britain's Got Talent 2009 has generated worldwide media coverage based on almost six million views, close to 40,000 five-star ratings, and 36,000 comments on YouTube.
Not bad for a beginner.
Backstage on April 11, at Britain's Got Talent 2009, just before she was about to make her dream come true by singing in front of a large audience, Boyle says, "I'm nearly 48… currently unemployed, but still looking."
She goes on to say with a smile on her face, and a twinkle in her eye: "At the moment, I live alone with my cat called Pebbles; I've never been married, never been kissed," and then quips: "That's not an advert!"
Once she's on stage, judge Simon Cowell the-seemingly-heartless-American-Idol-judge-that-everyone-loves-to-hate (kinda' like Dubai lol), asks her: "So what's the dream?"
She answers without hesitation: "I'm trying to be a professional singer."
He looks incredulous. Members of the audience whisper between themselves and roll their eyes.
Simon counters: "And why hasn't it worked out so far, Susan?"
"I've never been given me the chance before. But here's hoping it'll change," she replies with assurance.
It's obvious that the hundreds in the hall don't believe she has a hope in hell, or that the three sitting in the judges' seats expect anything out of the ordinary from the middle-aged woman who stands before them.
But Susan wows them all with an amazing rendition of "I Dreamed a Dream," from Les Miserables.
She stuns the judges. The audience is on its feet applauding virtually from the moment she opens her mouth. Now she has fan sites springing up all over the Internet, and her story is inspiring people around the world.
Hope. Just in the nick of time.
Thank you, Universe. Thank you, Susan Boyle.
(And thank you
Claire at Heals & Deals
for the heads up on the link ☺)
Clck here to watch the must-see video.
(Have tissues handy lol)
One of the 144,000 YouTube says:
"The show should be renamed to "Britain's got Susan Boyle" and all the other contestants should be sent home. Nobody can compete with her performance."

Related links:
Unlikely U.K. Singing Star Susan Boyle Takes YouTube by Storm
I Believe in Magic
What Do Modonna, Susan Boyle and Dubai Have in Common?
I Dreamed a Dream lyrics:
I dreamed a dream in time gone by
When hope was high
And life worth living
I dreamed that love would never die
I dreamed that God would be forgiving.
Then I was young and unafraid
And dreams were made and used
And wasted
There was no ransom to be paid
No song unsung
No wine untasted.
But the tigers come at night
With their voices soft as thunder
As they tear your hope apart
As they turn your dream to shame.
And still
I dream he'll come to me
That we will live the years together
But there are dreams that cannot be
And there are storms
We cannot weather...
I had a dream my life would be
So different form this hell I'm living
so different now from what it seemed
Now life has killed
The dream I dreamed.
Susan Macaulay notes: Don't let anyone, or anything, kill the dream you dream, just as Susan Boyle didn't let anyone kill hers ☺