Because I Am A Girl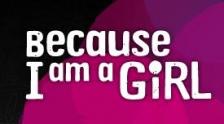 Part of Plan Canada, the global campaign Because I am a Girl was created to invest in girls in developing countries to eliminate poverty and create a better world and a brighter, safer future for girls, boys and everyone.

The program's goal is to engage one million girls to raise money for projects such as clean water and food security, health care and education and livelihood initiatives, such as microfinance.

Because I Am A Girls says:

"We believe girls have a right to be invested in, a right to be acknowledged as an economic force to be reckoned with. It is time for us to really listen to the voices of girls - they are the key to change."