Beatrice Coron (Artist)
Susan notes: Beatrice Coron is one of 15 amazing women who will take the stage at TED 2011. We're working hard to get TED to work harder on gender parity. ADD YOUR VOICE HERE.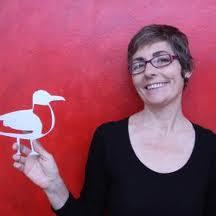 After studying art at the Ecole des Beaux-Arts of Lyon, and studying Mandarin Chinese at the Université of Lyon III, Coron worked in tourism for over ten years (later as a New York City tour guide).
Coron has lived in France (her native country) , Egypt and Mexico for one year, each and China for two years before moving to New York in 1985.
Coron's career took her from illustration to bookarts, fine arts and now public art. Public art was a natural evolution to place stories with shared memories in the public realm. Rather than leaving an expression for another, her work makes artist books for viewer to step in, or fine arts with illustration methods.