Beads For a Better Life
By Susan Macaulay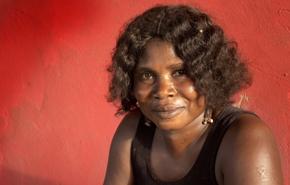 Comfort Amanor is a single mother of four who dreams of one day opening a school to teach underprivileged children the art of beadmaking.
With her courage and determination, she might one day realise that challenging goal.
Comfort turned her hand to bead-making 11 years ago after many years exporting clothing and shoes from neighbouring Togo. She found all the traveling difficult, especially as a single mom.
During her early days as a bead-maker, Comfort supplied one of the big wholesalers in Ghana, but there were problems with payments. Also, the supplier wanted her to string the tiny beads, painstaking work that took her twice as long as it did to actually make the beads.
Comfort now works from home (where she has her own glass bead-making oven), and produces beads for
Global Mamas
. She is one of a handful of women prepared to make fiddly "seed" beads, the smallest glass beads made in the region.
Most of her income goes to school fees for her children and buying materials for her beads, but she now earns enough money to also help support her sister's large family.
Although Comfort puts in as many hours as she can making beads, she has started a side-line raising pigs. Besides her dream of starting a school, Comfort is also saving money to build a house so she can move out of the two-roomed place in which she and her family currently live. And, although she doesn't drive, she'd like to buy a truck to reduce her transport costs for bringing in firewood to fuel the oven.
Comfort hopes to travel to the UK one day. Her courage and determination might make even that kind of trip possible…
Click here
to see and buy some of the products made from beads produced by Comfort.