Banafsha Begs For Bread in Kabul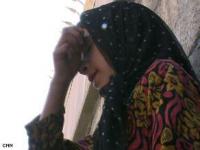 Eleven-year-old Banafsha wakes up in her small mud home, has a cup of tea and braces herself for the day ahead.
She is the breadwinner for her family. Literally.
Without the bread that she begs from strangers, she, her sisters, her baby brothers and her mom would all go hungry.

Her father is a drug addict, focused only on his next high; her mom cares for the little ones, and heavy responsibility falls on Banafsha's young shoulders


Every day, she heads far from her home, trekking up and down steep hills to the wealthier parts of the city, where she hopes richer people will take pity on her.


She is not bitter, explaining: "My two younger sisters also work. They beg for bread and sell gum. There's no choice.


Related links:
Afghan Girls Scarred by Acid, Defy Terror, Embrace School
April 30 follow-up video story: