Bahraini Female Lawyer Fights For Transgender Rights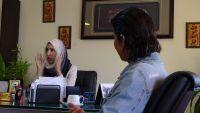 Transsexuals in the Gulf call Bahraini lawyer Fawziya Janahi "guardian angel". She is the Arab world's only female lawyer who takes up cases on behalf of clients who want to change their sex.
Janahi's clients want legal permission to undergo sex change operations. While the law is quite straightforward on this in Bahrain, the lawyer says it is more difficult in other countries in the region.
"But that wouldn't stop me from helping transgendered trapped in their bodies," she says. "I'm ready to challenge the odds!"
Janahi, 47, spoke with IPS about her unusual practice, her future and hopes of greater acceptance of transgendered/transsexuals in Gulf societies.
Click here to read the full story:
By Suad Hamada
Inter Press Service News