Azar Nafisi (Author)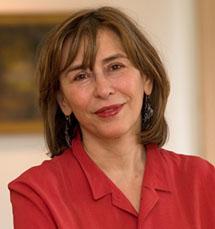 Azar Nafisi (Persian: ??? ?????), born ca. 1947, is an Iranian academic and bestselling writer who has resided in the United States since 1997 when she emigrated from Iran. Her field is English language literature.
Nafisi's 2003 book Reading Lolita in Tehran: A Memoir in Books has been translated into 32 languages. It was on the New York Times Bestseller list for 117 weeks, and has won numerous literary awards, including the 2004 Non-fiction Book of the Year Award from Booksense, and the Europe based Persian Golden Lioness Award for literature.
The book also led to controversy about Nafisi's alleged connections to neoconservatism and colonialism.
She published an autobiography, Things I've been silent about: memories of a prodigal daughter (2008), focusing on the impact on her throughout her life of her relations with her parents (her mother peevish and cold, her father affectionate and companionate) and of decades of political upheaval in Iran, including the father's incarceration under the Shah on trumped-up charges of financial irregularities.
Nafisi has been a visiting fellow and lecturer at the Foreign Policy Institute of Johns Hopkins University's School of Advanced International Studies (SAIS) and served on the Board of Trustees of Freedom House.
Azar Nafisi is the daughter of Ahmad Nafisi, a former mayor of Tehran (1961–1963) who was the youngest man ever appointed to the post up to that time.
Nafisi returned to Iran in 1979 where for a brief time she taught English literature at the University of Tehran.
In the aftermath of the Iranian revolution of 1979 and the subsequent rise to power of the Ayatollah Khomeini, Nafisi soon became restless with the stringent rules imposed upon women by her country's new rulers. She spoke of the freedom that she believed women in some countries took for granted, which women in Iran had now lost as the Khomeini regime enacted laws curtailing women's rights.
In 1995, she states that she was no longer able to teach English literature properly without attracting the scrutiny of the faculty authorities, so she quit teaching at the university, and instead invited seven of her female students to attend regular meetings at her house, every Thursday morning.
They studied literary works including some considered controversial in postrevolutionary Iranian society such as Lolita alongside other works such as Madame Bovary. She also taught novels by F. Scott Fitzgerald, Henry James and Jane Austen, attempting to understand and interpret them from a modern Iranian perspective.
When asked by an interviewer in 2003 if there was "ever a time, when you were living in Iran, when you would have welcomed the idea of a regime change implemented by foreign forces", Nafisi claimed, "Some Iranians were so desperate that they would have wanted the foreign powers to come in, but I didn't feel that way. ... in Iran, I don't think that we needed foreign intervention at any point."
Nafisi left Iran on June 24, 1997 and moved to the United States, where she wrote Reading Lolita in Tehran: A Memoir in Books, a book where she describes her experiences as a secular woman living and working in the Islamic Republic of Iran. In the book, she declares "I left Iran, but Iran did not leave me."
Nafisi has held the post of a visiting fellow and lecturer at the Foreign Policy Institute of Johns Hopkins University's School of Advanced International Studies (SAIS) in Washington, DC and has served on the Board of Trustees of Freedom House, a United States nongovernmental organization (NGO) which conducts research and advocacy on democracy.
In a 2003 article for The Guardian, Brian Whitaker criticized Nafisi for working for the public relations firm Benador Associates which he argues promoted the neo-conservative ideas of "creative destruction" and "total war".
In 2006 Columbia University professor Hamid Dabashi compared Reading Lolita in Tehran to "the most pestiferous colonial projects of the British in India," and asserted that Nafisi functions as a colonial agent. He then classed Nafisi with the U.S. soldier convicted of mistreating prisoners at Abu Ghraib. "To me there is no difference between Lynndie England and Azar Nafisi."
Critics such as Dabashi have accused Nafisi of having close relations with neoconservatives. In the acknowledgements she makes in Reading Lolita in Tehran, Nafisi writes of Princeton University historian Bernard Lewis as "one who opened the door". Nafisi, who opposed the U.S. invasion of Iraq in 2003, rejects such accusations as "guilt by association," noting that she has both "radical friends" and "conservative friends."
In a critical article in the academic journal Comparative American Studies, titled "Reading Azar Nafisi in Tehran", University of Tehran literature professor Seyed Mohammad Marandi states that "Nafisi constantly confirms what orientalist representations have regularly claimed". He also points out that she "has produced gross misrepresentations of Iranian society and Islam and that she uses quotes and references which are inaccurate, misleading, or even wholly invented."
Nafisi responded to Dabashi's criticism by stating that she is not, as Dabashi claims, a neoconservative, that she opposed the Iraq war, and that she is more interested in literature than in politics. In an interview, Nafisi stated that she's never argued for an attack on Iran and that democracy, when it comes, should come from the Iranian people (and not from US military or political intervention).
She added that while she is willing to engage in "serious argument...Debate that is polarized isn't worth my time." She stated that she did not respond directly to Dabashi because "You don't want to debase yourself and start calling names."
Related Links:
Azar Nafisi on Wikipedia
Azar Nafisi's Official Website