Aung San Suu Kyi to Stand Trial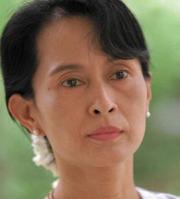 Myanmar opposition leader Aung San Suu Kyi will stand trial Monday for an incident in which an American allegedly swam across a lake and stayed for two days in her closely guarded residence, where she is under house arrest.
The southeast Asian country's military junta rarely allows visitors to see Suu Kyi, and foreigners are not allowed overnight stays in local households.
The government said the presence of the American, John William Yettaw, in the lakeside home violated the conditions of Suu Kyi's house arrest.
Suu Kyi on Thursday was taken to a prison compound near Yangon , where authorities set up a special room for her until the trial, said Nyan Win, spokesman for her National League for Democracy party.
If convicted, Suu Kyi could face three to five years in prison.