Anti Trafficking Worker Anuradha Koirala Is CNN Hero of the Year
Susan notes: hundreds of thousands of women, children and men are trafficked around the world each year. It's a tragedy. The fact that the work of one Nepalese woman who as rescued 12,000 of them has been recognised in the mainstream media is to me a glimmer of hope that one day this completely unacceptable practice will be eradicated everywhere. I'm delighted also that AWR friends and fans helped Koirala win this distinguished by answering my call to vote for her. See more on her story here: Anuradha Koirala Rescues Girls & Women From Sex Slavery.
A woman whose group has rescued more than 12,000 women and girls from sex slavery has been named the 2010 CNN Hero of the Year.
Anuradha Koirala was chosen by the public in an online poll that ran for eight weeks on CNN.com. CNN's Anderson Cooper revealed the result at the conclusion of the fourth annual "CNN Heroes: An All-Star Tribute."
"Human trafficking is a crime, a heinous crime, a shame to humanity," Koirala said earlier in the evening after being introduced as one of the top 10 CNN Heroes of 2010. "I ask everyone to join me to create a society free of trafficking. We need to do this for all our daughters."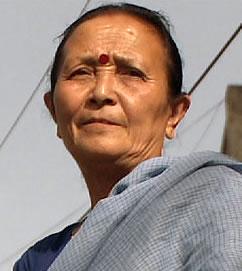 Koirala was introduced by actress Demi Moore, who along with her husband, Ashton Kutcher, created DNA, The Demi and Ashton Foundation, which aims to eliminate child sex slavery worldwide.
"Every day this woman confronts the worst of what humanity has to offer," Moore said of Koirala. "She says, 'Stop. Stop selling our girls.' By raiding brothels and patrolling the India-Nepal border, she saves girls from being sold into the sex trade, where they are being repeatedly raped for profit, tortured and enslaved.
"Since 1993, she has helped rescue more than 12,000 women and girls. Through her organization Maiti Nepal, she has provided more than a shelter for these girls and young women, she has created a home. It is a place for them to heal, go to school, learn a skill, and for some who are infected with HIV/AIDS, it is the place where they can spend their days surrounded by love."
See Koirala's fan page on CNN Heroes
Koirala will receive $100,000 to continue her work with Maiti Nepal, in addition to the $25,000 awarded to each of the top 10 Heroes honored Saturday night.
"This is another responsibility to me to work with all your support," Koirala said to the audience after being named Hero of the Year. "We have to end this heinous crime. Please join hands with me to end this crime. ... Please try to respect the youth. They are the ones who are going to build the next generation. Thank you so much."
Click here to read the full story:
CNN
Related Links:
Anuradha Koirala Rescues Girls & Women From Sex Slavery