Anna Deavere Smith's American Character
Susan notes: Thanks to TED for making TED Talks downloadable and embeddable, and for providing the biographical information that goes along with them.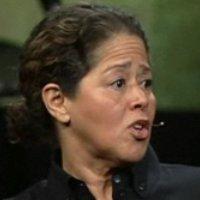 Writer and actor Anna Deavere Smith gives life to author Studs Terkel, convict Paulette Jenkins, a Korean shopkeeper and a bull rider, excerpts from her solo show "On the Road: A Search for American Character."
Hailed by Newsweek as "the most exciting individual in American theater," Anna Deavere Smith uses solo performance as a public medium to explore issues of race, identity and community in America. Her grandfather once told her, "Say a word often enough, and it becomes you."
Inspired by this and Walt Whitman's idea "to absorb America," Deavere Smith began interviewing people (more than 2,000 now) across the country some 20 years ago. Without props, sets or costumes, she translates those encounters into profound performances, each drawing verbatim from the original recorded interview.
She has an uncanny ability to inhabit the characters -- or rather the people -- she's representing onstage, regardless of their race, gender or age. And while her approach to cultural commentary is now widely imitated, she remains the master of the form. Her play, Let Me Down Easy, premiered this year at the Long Wharf Theater.
Related Articles