Ann Veneman (Executive Director)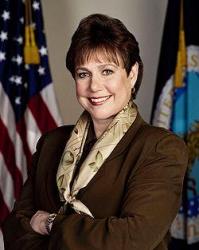 Ann Margaret Veneman, born June 29, 1949, is the former Executive Director of UNICEF. She was the first woman to become the United States Secretary of Agriculture.
She announced her resignation as Secretary on November 15, 2004, which took effect on January 20, 2005.
On January 18, 2005, UN Secretary-General Kofi Annan announced Secretary Veneman's appointment as the fifth Executive Director of UNICEF. The appointment was made effective with the end of the term of former UNICEF Executive Director Carol Bellamy on May 1, 2005.
She is currently a board member of Malaria No More, a New York-based nonprofit that was launched at the 2006 White House Summit with the goal of ending all deaths caused by malaria.
Related Links:
Wikipedia
The World's Most Powerful Women 2009