Angela Braly (Chief Executive)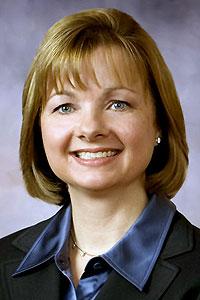 Angela F. Braly is president and chief executive officer for WellPoint, Inc., a large US-based health care company, and is a member of the company's board of directors.
She assumed those responsibilities on June 1, 2007, following several high-profile roles for the company.
Prior to her current position, Braly served as executive vice president, general counsel and chief public affairs officer for WellPoint.
In that role, she was responsible for public policy development, government relations, legal affairs, corporate communications, marketing, and social responsibility initiatives.
She also had operational responsibility for the nation's largest Medicare claims processing business and the federal employee health benefits business. Ms. Braly was also a key strategist during WellPoint's acquisition of New-York based WellChoice in 2005.
As of April 2009, Braly had the 306th highest compensation for a US CEO, having earned $4.07 million, which is 74th among females. She owns $4.6 million worth of WellPoint stock, or .02% of the company. In 2007, Braly earned $14.86 million, mostly in stock options.
Related Links:
Wikipedia
The World's Most Powerful Women 2009
Related Articles