Aneri Patel (Social Entrepreneur)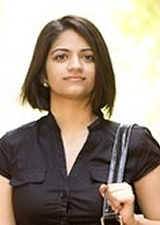 I'm a serial social entrepreneur looking into building clean energy markets in developing countries.
First, I started the EcoLife Store in Tamil Nadu, India which services 90,000 households in the Villupuram district through training rural women and self-help group leaders about solar lanterns, water filters, and other eco-friendly products that improve the livelihoods of village people.
EcoLife is run though the Auroville Village Action Group, which works on empowering rural people through microfinance, women co-ops, and social work.
They are the notable leaders in this district, and EcoLife is on track for expansion and franchisement through similar microfinance institutions in Tamil Nadu.
I was a Research Fellow for the Alliance for Rural Electrification, a business association based in Brussels, Belgium that helps off-grid companies expand their products and markets to developing countries.
My research was focused on increasing small scale financing for these SMEs as international organizations and banks prefer to lend to much larger projects, which defeats the purpose of decentralized energy access.
I also have written on expanding opportunities for women in the electrical field in rural developing countries, having field experience with Grameen Shakti, the renewable energy arm of the Grameen Bank in Bangladesh.
There, I determined ways Grameen Shakti could expand it's operations to the bottom of the pyramid. I have also written numerous editorials for India Carbon Outlook and the British Chambers of Commerce.
I also have published a Best Practices guide through the Alliance for how different companies have succesfully brought electricity to rural areas in developing countries through 20 different examples.
Currently, I live and work on business development in Kampala, Uganda for Impact Carbon, a San Francisco based NGO that is a carbon asset developer for clean cookstoves in developing countries.
These stoves prevent respiratory illnesses caused by conventional cooking practices and reduce deforestation.
I have a Masters in Environment and Development from the London School of Economics and Political Science and a BA in International Studies from the University of North Carolina at Chapel Hill.
Related links:
Aneri Patel on Changents
Aneri Patel's Blog