Andrea Jung (Chief Executive)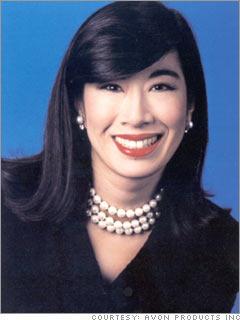 Andrea Jung is a North American business executive. In 2001 she was named one of the 30 most powerful women in America by Ladies Home Journal.
Andrea Jung is chairman of the board and chief executive officer of Avon Products, Inc., promoted to the position in November 1999.
Before her election to the position, she served as president and chief operating officer over all business units of Avon worldwide. She has also been on the company's board of directors since 1998.
Jung first came to Avon in 1994 as the company's president in its product marketing group. She was became president, global marketing in 1996 and executive vice president/president of global marketing and new business in 1997.
Her responsibilities at that time centered primarily around market research, joint ventures, and strategic planning.
Previously, she served as executive vice president of Neiman Marcus, handling issues with accessories, intimate women's apparel, cosmetics and children's wear. Before that, she served as senior vice president, general merchandising manager for I Magnin.
Jung has served on the board of directors of General Electric since 1998.
She joined Apple's board of directors on 7 January, 2008.
Jung is a magna cum laude graduate from Princeton and is fluent in Mandarin. Jung was named one of Forbes 100 Most powerful women in 2004.
Related Articles