Amy Krouse Rosenthal Speaks At TEDxWaterloo
Susan notes: Thanks to TED for making TED Talks downloadable and embeddable, and for providing the biographical information that goes along with them.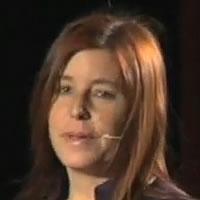 To say Amy Krouse Rosenthal is a writer, filmmaker and radio host does not do justice to the variety and sheer innovation behind her creative endeavors.

The New York Times said this about her work: Her books radiate fun the way tulips radiate spring: they are elegant and spirit-lifting.

Rosenthal has published 12 childrens books (and 8 forthcoming) including The New York Times bestsellers Duck! Rabbit! and Cookies: Bite Size Life Lessons. Duck! Rabbit! was selected as Time Magazines best childrens book of 2009.
As for her adult work, Amazon named her Encyclopedia of an Ordinary Life one of the top 10 memoirs of 2005. Amy is also the creator of YouTube sensations such as 17 Things I Made and the international film project, The Beckoning of Lovely: A Feature Film Featuring You.

<
Related Articles