Amazing Woman Happy To Help Fat Dude In Sleigh With Reindeer
Susan notes: thanks to the Christmas Traditions website, from which I have borrowed this piece on Mrs. Claus (wife of Santa Claus who rides around the world each year on December 24 in his sleigh drawn by reindeer to distribute gifts and goodies to well-behaved girls and boys).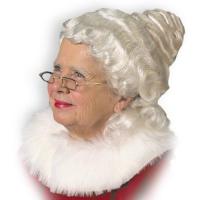 First introduced to the world in the poem Goody Santa Claus On A Sleigh Ride by poet Katherine Lee Bates (1859-1929), Mrs. Claus has moved out of the kitchen and into the workshop over the past century.

In Bates' 1889 poem, Mrs. Claus begs to be taken along in the annual Christmas Eve toy delivery sleigh ride with Santa. She has raised perfect candy trees all year long and feels deserving of a chance to participate in the fun.

As they make their deliveries, Santa pops up and down chimneys, and Mrs. Claus stays on the roof and holds the reindeer...

Sadly, when they come to one little boy's modest house, Santa emerges from the chimney with a tear on his cheek. The only stocking the little boy had to hang by the fireplace had a hole in it, and he was unable to fill it with any presents.

Seeing an opportunity to save the day, Mrs. Claus jumps down the chimney and mends the little boy's stocking. From that point on, Santa has always asked his lovely wife to come along for holiday deliveries.

Today, Mrs. Claus doesn't just bake the best cookies this side of the Northern Lights. She stays up-to-date on all the most popular toys, making sure Santa knows what each child wants, and manages the elves' workshop. It keeps her very busy, but she is happy to be at Santa's side, bringing extra magic to Christmas.
Related Articles