Amazing Maria Travels The World And Ends Up In A JAM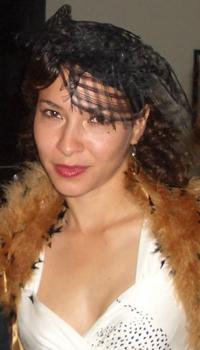 Susan notes: My friend Maria is a force to be reckoned with: smart, sexy, sporty, street savvy and SO much more. She makes me go WOW! every time I talk to her, and I never know what she's going to be up to next. I want to be just like her when I grow up :)


Posted by Maria Petit
December 15, 2009
It's December 2009, and I'm writing this profile in between
chukkas
in Argentina.
I've been living out of a suitcase since fall 2007, when I was relocated by my former employer Motorola Ltd to London, UK, from Dubai, United Arab Emirates.
I had been living the Dubai 'Golden Years' as Motorola's Middle East, North Africa and Turkey Financial Controller. It was the highlight of my nine-year career: business was booming – it was the year of the 'razor', Motorola V3 – and I lived in my home overlooking Dubai Marina.
Just in time for my 30th birthday, I was promoted to the position of Commercial Director Mobile Devices Business, Europe Middle East and Africa. The promotion meant I had to relocate back to the UK where I had previously spent two-years.
The movers packed my belongings for the third time in four years (Miami-London-Dubai-London) for a sea voyage, leaving behind two suitcases of mostly work clothes to keep me afloat while I transitioned and closed on a property I planned to purchase in London.
Had I known a month of transition would become two years of transformation, I would have at least packed my polo gear, which in retrospect was the one thing I missed the most, and which was thankfully replaced with relative ease.
(That's me in the red helmut, having replaced my gear and giving it my all on the polo pitch :)
The Waiting Room
This part of my life I think of as the 'waiting room,' a huge contrast to the 'Golden Years' in Dubai. The then-pending property closure fell through and I started over, spending weekends in search of decent properties, which seemed to be non-existent at the time.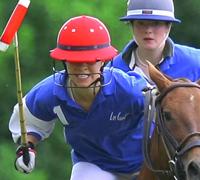 Not finding a place turned out to be a blessing in disguise, as the cracks in the property market began to show shortly thereafter.
Meanwhile, my two suitcases and I moved from a friend's apartment to a slightly more permanent arrangement in the heart of South Kensington. I say 'slightly' because it was a four-month deal, which turned out to be four times that long.
On a personal level, I lived day-to-day. And at work, I poured my heart and soul into proving I was worthy of the new role I had been given in the UK.
For the first time in my career I was uninspired by the company's ever-changing leadership. I had finally made it into the strategic meetings of which I had once dreamed of being a part, but I was unimpressed with what went on behind closed doors.
Gonna' Be Alright
On most occasions, as I looked around the boardroom, I was the only woman, clearly a minority in a man's world. The 'waiting room' syndrome spread from my personal life to the work environment where there were rumors of restructuring and lay-offs, although nothing was known with certainty.
By that time, I had had three different bosses since my return to London. Amidst the chaos, I found refuge in the only constant things in my life: training for the New York City Marathon, and dedicating my spare time to the game of polo.
The sense of accomplishment and invincibility that comes with completing a marathon was never more timely. The day after completing the NYC marathon, I got the news that I was being made redundant.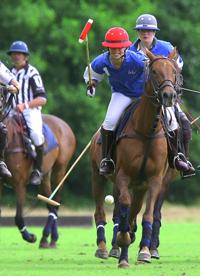 My boss asked whether I would be all right. The answer came easily: "I just finished a marathon. I know now I can take on anything."
I decided to use the redundancy package to do all the things of which I had deprived myself while I worked so hard to prove my worth at Motorola.
I would take a year off to travel, study Arabic in Sana'a, Yemen, play polo in Argentina, spend time with family and friends, and start a business.
I didn't know then what type of business it would be, but I had faith that an idea would come to me during my travels. So it did – and much sooner than I had anticipated!
JAMMING !
Shortly after redundancy I booked myself into an extensive CELTA – Certificate in English Language Teaching to Adults Cambridge Certification course. I figured it would be fun to teach English during my travels. Little did I expect to meet the dynamic, energetic and amazing Jamie Chamberlain, one of my fellow students.
Jaime was en-route to Brazil, and was studying Portuguese. We quickly realized we had a lot in common: we are both passionate about learning new languages, we love to travel and perhaps most important, we agree that "learning doesn't have to be a bore."
In the end, we spent much of our energy during the course designing our own learning materials and thinking of out-of-the-box ways to make our classes interesting, interactive and fun. We recognized almost immediately that there is a huge gap in the availability of dynamic teaching materials designed to help children and adults learn new languages in innovative ways.
So we created our own, along with our own publishing company
JAM Language Limited
. JAM stands for Jaime And Maria, as well as for the concept of spreading sweet and sticky goodness.
The nine years at Motorola Ltd, and the experiences and opportunities I was privileged to have received while I was there, gave me the foundation and confidence I needed to start JAM.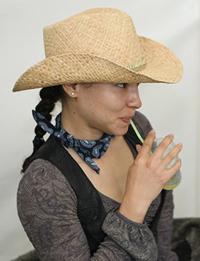 It's refreshing to be creative again, and to work around my own schedule, from literally anywhere in the world including my mom's kitchen in Miami, to a beach in Mombasa, Kenya, or an airport, as I'm doing now.
Jaime and I feed off of each other's ideas in a contagious synergy that is highly energizing and motivating.
She is the source of my inspiration: besides giving birth to the JAM logo, she also recently gave birth to her first child Sophie!
In addition to being a new Mom, she keeps up with me and JAM, travels the world with her husband and Sophie, volunteers for shop mobility (an organization which pairs volunteers with disabled or elderly people who need assistance with their grocery shopping or errands), and attends to her action-packed social calendar. Cleary an AMAZING woman with whom I'm proud to be a business partner.
Here's to travelling the world and ending up in sticky JAM everywhere!

Related links:
Follow JAM's travels on the JAM blog
,
shop JAM at www.jamlanguage.com
and
become a JAM fan on facebook.