Amazing Katie Spotz Rows Solo Across The Atlantic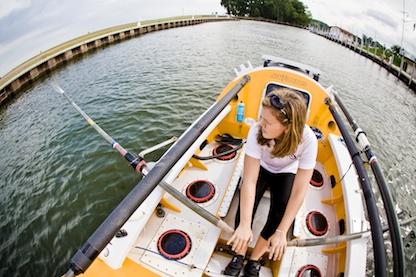 If you ever wondered what true exhaustion feels like, or claustrophobia, or utter loneliness for human companionship, Katie Spotz can enlighten you.
And if you wonder whether these things can indeed be overcome, then this young endurance athlete can answer that too. Among many other feats to her credit, she's rowing across the Atlantic Ocean. Alone.
As endurance is her strong suit, she's run 150 miles across the Mojave Desert and biked 3,300 miles across the US (averaging 85 miles per day). Not to mention an impressive swim-the full 325 mile length of the Allegheny River. Then there was the Half-Iron Man, and that 62-mile marathon too.
But this time, she's rowing the Atlantic Ocean- A 2,500 mile row from Dakar, in Senegal to Cayenne French Guiana, and she's only 22 years old.
She's also responsible for inspiring and enthralling many of us land-lubbing coach potatoes along the way and raising awareness, for her cause: Water.
That is, clean, viable drinking water.
Water is very likely, the number one thing we, in developed parts of the world, all take for granted. But the truth is, 1 in 6 of us on God's green and mostly blue Earth, don't have access to this most basic of human necessities. This should, at the very least, make us think twice about leaving the water running when brushing our teeth.
Katie's quest to raise awareness for Water issues in the developing world, is no question being realized as she rows across the Atlantic, solo. Aside from raising awareness, another important goal was to raise $30,000. But that's long been been surpassed. Her efforts have amounted now to well over $50,000 and growing. But this will only cover a small portion of our fellow men, women and children who live, on a daily basis without the access to clean, safe drinking and bathing water.
Check out her website Row for Water and watch her progress which is being charted by GPS. See her location in real time, cheer her on by leaving a note of encouragement, and by all means donate what you can. For $30 you can offer someone a lifetime of safe drinking water, as we in the comfort of the developed world recognize how good we have it, when we turn on the faucet every morning to wash our face and brush out teeth.
Click here to read the full story by
Booksaboutpeace
Ode Magazine Exchange
Related links:
Adventure related stories on AWR