Aimee Mullins Redefines Disability And Adversity
Susan notes: Thanks to TED for making TED Talks downloadable and embeddable, and for providing the biographical information that goes along with them.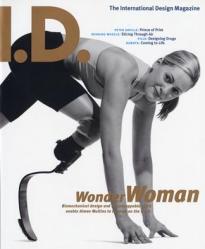 The thesaurus might equate "disabled" with synonyms like "useless" and "mutilated," but ground-breaking runner Aimee Mullins is out to redefine the word. Defying these associations, she shows how adversity -- in her case, being born without shinbones -- actually opens the door for human potential.

Aimee Mullins was born without fibular bones, and had both of her legs amputated below the knee when she was an infant. She learned to walk on prosthetics, then to run -- competing at the national and international level as a champion sprinter, and setting world records at the 1996 Paralympics in Atlanta.
At Georgetown, where she double-majored in history and diplomacy, she became the first double amputee to compete in NCAA Division 1 track and field.
After school, Mullins did some modeling -- including a legendary runway show for Alexander McQueen -- and then turned to acting, appearing as the Leopard Queen in Matthew Barney's Cremaster Cycle. In 2008 she was the official Ambassador for the Tribeca/ESPN Sports Film Festival.
She's a passionate advocate for a new kind of thinking about prosthetics, and recently mentioned to an interviewer that she's been looking closely at MIT's in-development powered robotic ankle, "which I fully plan on having."
Related Articles