Ahn Trio With A Modern Take On The Piano, Violin & Cello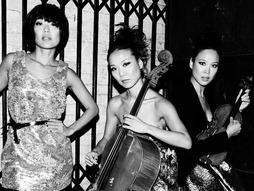 The three Ahn sisters (cellist Maria, pianist Lucia, violinist Angella) breathe new life into the piano trio with their passionate musicmaking. At TEDWomen, they start with the bright and poppy "Skylife," by David Balakrishnan, then play a gorgeous, slinky version of "Oblivion," by Astor Piazzolla.

With cello, piano and violin, sisters Maria, Lucia and Angella Ahn are constantly redefining the art and architecture of chamber music.

Born in Seoul, Korea, and educated at Juilliard, cellist Maria, pianist Lucia, and violinist Angella Ahn are breathing new life into the standard piano-trio literature.

They've commissioned works from visionary composers such as Michael Nyman, Maurice Jarre, Pat Metheny, Paul Schoenfield, Mark O'Connor, Kenji Bunch, Nikolai Kapustin and Paul Chihara.

The trio's latest CD is Lullaby for My Favorite Insomniac, a showcase of this vibrant and original music.

The trio has been touring for a decade, and have made six albums so far, five for major labels; for Lullaby, the trio formed their own production company, L.A.M.P. (Lucia Angella Maria Productions) to self-produce.
The Ahn Trio has fused their work with that of dancers, pop singers, DJs, painters, installation artists, photographers, lighting designers, ecologists and even kite makers; recently, they performed in the Czech Republic with rock group the Tata Bojs to sold-out shows.
Susan notes: Thanks to TED for making TED Talks downloadable and embeddable, and for providing the biographical information that goes along with them.
Related Articles