Afghan Women Still Fighting For Rights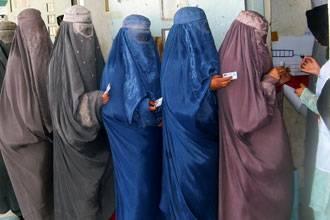 As Afghanistan's most powerful men arrive in Kabul for a major conference aimed at starting a peace process with the Taliban, many women are worried the event could lead to a compromise of their hard-won rights.
In an effort to end the nine-year conflict, Afghanistan is holding a peace jirga -- or an assembly -- of powerful leaders, tribal elders and representatives of civil society to consider President Hamid Karzai's plans to open talks with Taliban. But even the remote possibility of a Taliban return has touched off concern about the fate of women who were banned from schools, the work place and public life during the Taliban rule from 1996 to 2001.
"I'm really tired of this strategy and plans and jargon. I'd like to see activists from all 34 provinces come to Kabul and plan a much deeper understanding of what should be done in the future for women," said Orzala Ashraf Nemat, a leading women's rights activist in Kabul.
Concerned activists also point to the fact that women are not adequately represented at peace jirga, in which they represent a very small number of the 1,400 seats. And although between 30 and 50 women are expected to attend, none is involved in its planning.
Some believe that women were only given a "symbolic" role to lure Taliban to sit at the negotiations table.
"The positions of women in high-ranking roles have been significantly overshadowed ... One could be cynical and say that the reason there are so few women is to encourage the Taliban to come," said Ahmad Fahim Hakim, deputy chair of Afghanistan's Independent Human Rights Commission.
Click here for the full story:
MuslimsDebate.com
Related Links:
More About Afghanistan on AWR