Afghan Police Women Want Out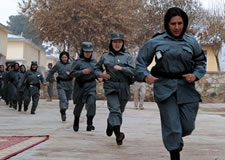 Asked about the rigors of being a female cop in this sparsely populated Afghan province, Fatima Tajik is blunt.
"We want to leave our jobs," Tajik tells her NATO mentor, U.S. Army Maj. Maria Rodriguez. "We are risking our lives for little money: $220 per month.
We also have families to take care of. All the women in Zabul hate us. Everyone hates us."
The women in this town where strict Islamic customs pervade all aspects of daily life call the policewomen "whores" for working alongside Americans and men to whom they are not married, she says. The women get phone calls telling them they will be beheaded if they don't quit the force.
Rodriguez, Female Engagement Team leader and provost marshal of the 1st Stryker Brigade Combat Team, 25th Infantry Division, acknowledges the death threats and that a bomb had been placed in a teacher's home. But she asks the women to persevere.
"We don't want you to quit," Rodriguez says, promising to talk to her commander about what could be done to help the women feel safer.
The scene reflects the scope of the challenge the Afghan government and NATO forces face here in Zabul province — which abuts the Taliban's traditional homeland of Kandahar province — as they try to modernize daily living and protect Afghans from their former overlords.
The Afghan government and NATO see the female officers corps as crucial to achieving those goals.
There now are about 1,150 women in the Afghan National Police, less than 1% of the force. The Ministry of Interior wants 5,000 police women on the job by 2014.
Women are needed to perform duties that men are forbidden from doing in this tribal society in which ancient Islamic customs were strictly enforced long before radical, militant Taliban clerics took over the country in the 1990s.
For example, policewomen search women at checkpoints and are sent into the female quarters of civilian compounds where insurgents often hide.
To avoid checkpoint searches by male officers, armed male terrorists often cloak themselves in head-to-toe burqas that typically are worn by women.
The Taliban also has used women as suicide bombers. In one case, insurgents handed a bag containing a bomb to an 8-year-old girl and blew her up as she approached a police checkpoint.
"Integrating Afghan women into this (security) process supports our combined efforts to eliminate insurgent activity and eliminate Taliban influence across Afghanistan," says Lt. Col. Wayne Perry, director of media outreach for the International Security Assistance Force, which oversee coalition operations. "These programs, and the woman participating in them, will go a long way in setting the conditions to support the process of transition in Afghanistan."
In the two years ending in December, NATO will spend $20 billion — one-third of Afghanistan's gross domestic product for the same period — training, equipping and developing the Afghan National Security Forces that are supposed to take over for U.S. troops and others by the end of 2014.
Among those forces are the Afghan National Police. It is a notoriously corrupt force, but nonetheless critical to the U.S.-led counterinsurgency strategy, which relies on local police to prevent the Taliban from retaking towns cleared by the military.
That's why retaining women who have stepped forward to become police officers is increasingly important.
After meeting with Rodriguez, the frustrated women police officers, who wear full burqas while on the job in public, decide to stick with the force — for now.
However, many other policewomen have quit under pressures from a community in which fundamental Islam is prevalent.
"If it were true," says Tajik of the slurs against policewomen, "we would have quit, too."
'The police force needs women'
The capital of Zabul province is Qalat, which is Persian for "fortified place."
The city of several thousand people is known for its 19th-century British fortress, and for being among the first places the Taliban resumed power after the 2001 U.S.-led invasion that forced the group from Kabul. The province got its first airstrip only five years ago, and it's unpaved.
The Afghan National Army was largely welcomed by locals when it arrived with U.S. special forces, Romanian troops and civilian engineers.
Since then, the number of roadside bombs has declined and some projects to improve transportation and education are moving forward.
Bibi Khala Girls' School, with places for 1,500 pupils, opened about two years ago, and fertilizer and seed is being handed out to farmers to encourage them to replace the poppy crop that is converted to opium and sold with the help of the Taliban for a cut.
But some things are not changing.
When 30 women here completed a 2½-month police training course, they were lauded by their U.S. mentors for the vital role they were going to play in bringing security to the nation.
Then, almost immediately, more than 20 of the new recruits quit amid rumors that the local police chief was abusing some of the women sexually, according to Fatima Tajik.
"It's lies," says Tajik, who has been a policewoman for three years.
Even the suggestion of impropriety here can damage a woman's honor and bring shame on their families.
In Helmand, the province to the south of Zabul, women face a similar dilemma.
A surge of U.S. Marines in Helmand has forced the insurgents to the outskirts. The 16 women now on the police force are supported by the government — but not always by the community.
"Helmand is very conservative province but people understand that the police force needs women — and not just for ensuring security," says Daud Ahmadi, a spokesman for Provincial Governor Gulab Mangal.
Click here to read the full story:
By Lianne Gutcher
USA Today
Photo Credit
Shah Marai, AFP/Getty Images