About Gertrude Dyck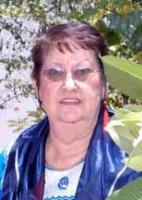 In 1962, nine years before the UAE was born, Canadian nurse Gertrude Dyck went to work in Al Ain's first hospital. She lived in the UAE and Oman for more than 43 years, and is the author of "The Oasis, Al Ain Memoirs of 'Doctora Latifa,'" first published in 1995 and available from Motivate Publishing in Dubai.

In 2002, Gertrude was recognised with two of Canada's highest honours: the Order of Canada, and a Queen Elizabeth II Golden Jubilee Medal.
Gertrude lived in a retirement home in British Columbia, Canada, for several years, until she passed peacefully away on October 17, 2009, after a short illness.
She will be missed by her family and a host of friends in United Arab Emirates and around the world. Besides being deeply religious, Gert had a boundless love for the United Arab Emirates and its people. She had hoped to return to the UAE in 2010 for a visit.
Gertrude told me (Susan Macaulay) about her life in the UAE during several interviews, which took place in 1996. The series of narratives below is based on those interviews; several more articles remain to be published.
In November 2010, The President of the United Arab Emirates, His Highness Shaikh Khalifa bin Zayed Al Nahyan, bestowed the Medal of Independence of the Third Order to Dyck, otherwise known as Gert, or as Doctora Latifa, in recognition of her efforts and rich career which she started in 1962 at Al Waha Hospital in Al Ain.