Abortion Blocks MDGs In Brazil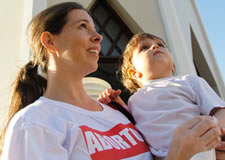 Brazil is on track to improve its maternal health statistics by 2015, one of the Millennium Development Goals.
But the widespread problem of unsafe abortion, which affects a million women each year, stands in the way.
Brazil is on track to meet targets to improve maternal health, goal No. 5 of the Millennium Development Goals, U.N. targets that...
...countries worldwide have pledged to achieve by 2015.
Maternal deaths are supposed to decline by two-thirds from 1990, when they were 220 per 100,000 live births. By 2005, that figure in Brazil had already declined by half, to 110 per 100,000.
But one of the country's biggest maternal health impediments is abortion, which is illegal in most cases and often unsafe.
Women undergo an estimated 1 million abortions in Brazil each year, with the majority considered unsafe, according to Ipas Brazil, part of a global nongovernmental organization that promotes reproductive rights and gender equality.
While that number represents a decline from 1.1 million in 2005, unsafe abortion is among the top three causes of avoidable death among women in Brazil and the fourth-leading cause of maternal death here.
Under Brazilian law, abortion is only legal if there is no other way to save the pregnant woman's life or if the pregnancy is the result of rape. The punishment for violating this law varies, depending on the circumstances, between one and 10 years in jail.
Click here to read the full story:
By Thais Moraes
Womens enews
Photo CreditRafael Cavalcante