A Tribute to Myra Ripley
Posted By Susan Macaulay

Oh My. What a talented, articulate, renaissance woman you are.

You are so refined, artistic and poised. A woman who truly knows how to appreciate the finer things in life.

You are so, well… ladylike.
The fact that you also know how to kick box is just a bonus.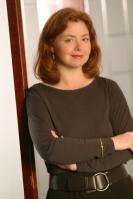 You seem to know what you want from life and you just go out there and get it. You are a successful businesswoman and so much more.
You are one helluva' good communicator – I admire the way you describe things with such clarity, style and attention to detail. Though our friendship would come later, you were a super role model for me in those good 'ole agency days – the epitome of professionalism, tiptoeing through agency politics with such aplomb.
I often wondered if I would ever be so skilled and respected. All I know now is that I'm still playing catch up!

I appreciate the times that we're in touch, even though they may be few and far between these days. I value the facebook connection, the occasional emails and the one-on-one talks we sometimes manage to squeeze in when I'm in Calgary.

You rock My. Always have. Always will. I'm delighted you are one of my friends.