A Tribute to Janice Laurie
Posted By Susan Macaulay
Writer par excellence, queen of kitsch and one of the funkiest dressers on this planet – right down to the fab eyewear I copied off you last summer and about which I've received a gazillion compliments (thanks for that BTW).
You're the only woman I know who quit smoking, started to learn how to play the guitar AND accepted her first modeling gig in her forties.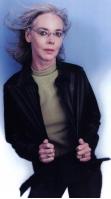 You have the best clothes, a brilliant sense of humour, great digs, groovey pets and SUCH A WAY WITH WORDS. I hope that one day I will be as eloquent and clever as you.

Janice, you have long been an inspiration to me. We've shared joys, sorrows and life experiences during chats in your garden, over the phone and by e-mail. You are kind, compassionate and forgiving and one of the coolest chicks I know.
I'm so glad we have been friends all these years and I look forward to lots more connection with you. And thanks for your help with the site :) You rock and I love you.