A Tribute To Doris Harris On Her 8Oth Birthday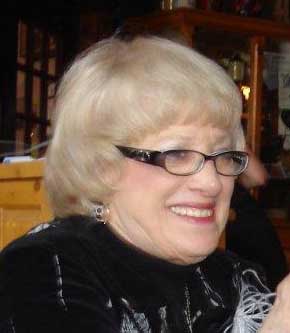 Susan notes: I had the great pleasure of working with Doris Harris in the late 1980s at Baker Lovck in Calgary, Alberta, Canada. As she is now, Doris was always full of life and fun and well-respected and loved by all those who knew her.
While at Baker Lovick, she somehow managed to keep all of us organized before the days of the Internet, e-mail, scanning, and digital everything.

I join Doris's friends and family everywhere in wishing her a happy 80th birthday on May 25, 2011, and I'm pleased to publish this poem written by Sharon Robinson specifically for the occasion.
Doris…
How would one describe Doris?
Vivacious, unique, classy,
Wild, practical, sweet and sassy
Spiritual, sincere, kind and true
But this girl knows how to party too!
A true Gemini, in every way
Colourful, delightful, she brightens everyone's day
You can't pin her down; she's too busy for that
Always on the go, sometimes donning her Purple Hat
When she's not with the Hatter's Club having fun
She's enjoying theatre, the arts, or on the run
A member of the Executive Women's International for years
Attending luncheons and meetings with her peers.
Back in her Baker Lovick days
She was the pulse of the agency, could sort through the maze
Of demanding clients, staff dramas and looming deadlines
She got through it all with a bottle of the finest wine!
She raised two boys on her own with loving dedication
And worked three jobs at once to give them a University education
Today they are successful businessmen, traveling the world
Always returning home to their Mother, their pearl.
To honour our friend, as she celebrates her 80th Birthday
We call to mind all that we cherish about her today
We sing a song for her; everyone join in the chorus
Happy Birthday to you, our dear friend, Doris