A Tribute to Auntie Flo
Posted by Tricia Evans
February 28, 2010

My wonderful role model 'Auntie Flo' died last week at the grand old age of 99 years & 7 months...she would have been 100 on 1 July.

It shouldn't be a shock when someone dies at 99, but it somehow was, as Flo always seemed so totally invincible!! It's not bad though, as she's had a fantastic life, & had been fit & well, & leaping on planes to Jersey & Scotland to see her family until well past her 99th birthday.

She'd only been ill for 2-3 months, & even then it totally infuriated her that her body was letting her down! She was comfortably "well off" & wore fab designer clothes her whole life, & she certainly had 'tales to tell', so this week's funeral will be a real celebration of a very long, interesting & happy life. She was in a home for a few weeks before she died, & died in her sleep in hospital. Way to go I guess....hope I do the same!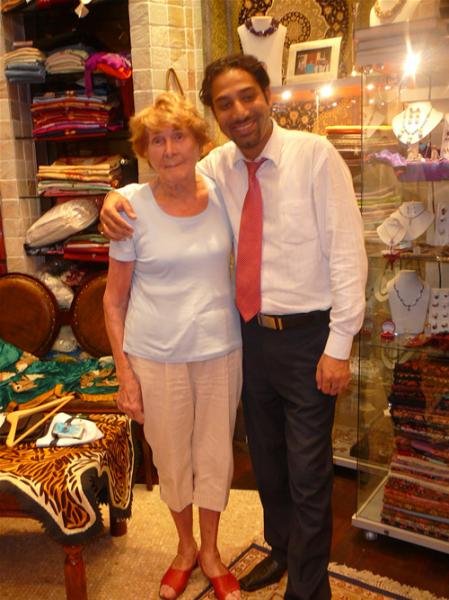 This photo of her was taken in Madinat Jumerah 2 years ago when she was 97. We told the salesman how old she was just after she'd just bought 2 rather fab designer floaty evening tops from him (telling him she'd get loads of wear out of them, & she did!)...& he was so amazed, that he insisted on having his photo taken with her!!

That was on the '3 Graces' tour when my mum aged 84, with her younger sister Maureen aged 83, & big sister Flo at 97 all went 'on tour' for a month to Dubai, Singapore & Bangkok to visit the 'kids' abroad!! Good eh?

So please drink a toast to Flo...she was great!

PS. When you see the female role models I've had in my life, it sort of explains me a bit doesn't it...& I've got them on BOTH sides of the family!!