888Ladies Treats You Like Bingo Royalty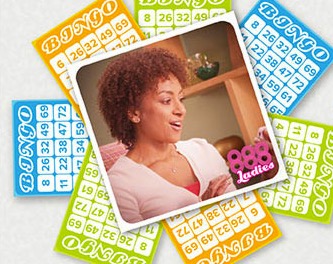 Anyone for Bingo? You bet!
My ex mother-in-law played bingo all the time, and loved it. When she couldn't go out to play anymore, she played via the TV. Still loved it.
I play it too – with my Mom at the care facility in which she lives.
It's a great pastime and something virtually anyone from eight to 88+ can master.
It's easy, fun, intergenerational and social. Maybe that's why it's spreading like wildfire online.
A quick Google search yields some interesting information including the fact that almost twice as many women than men play bingo, and about 3 million people in the UK alone play regularly. That's a lot of Bingo!
This summer, Bingo players from far and wide are invited to enjoy A Very Royal Summer.
As its namesake suggests, this "majestic" offer is rich in prizes and fabulous entertainment. Players will compete for their share of extraordinary cash prizes, alongside the guards of Buckingham Palace and the Union Jack in all its glory.
The name of the game is bingo – 90 ball bingo to be precise. This fun-filled instant game doesn't require any special skills or strategies; it's lady luck and plenty of joyful cheer. 90 ball bingo is the UK's favourite bingo variant, comprising 90 numbers between 1 and 90.
Random number generators (a.k.a. the bingo callers) pick numbers, which players then mark off against their bingo cards. To get started with A Very Royal Summer, players must purchase bingo tickets. Each ticket costs £1 for the Royal game and players can purchase a minimum of two cards and a maximum of 96 cards for this promotion.
The Royal £8,888 jackpot game will be Tuesday, 22 July at 9:30 PM UK time.
How to Win Jackpot Prizes
It's a cinch getting started; players have multiple ways to win prizes – even if they don't complete winning combinations. For example, if you miss completing a bingo card by 1 number, you still stand a chance to win a prize. This is known as One-to-Go. £888 in jackpot prizes will be split between all of the 1 to Go winners.
Next up, players who manage to complete 1 line are also eligible for a prize – £1,000. A line in 90 ball bingo comprises 5 numbers spread across 9 squares on one line. Players who manage to complete two lines are eligible for an even bigger prize, to the tune of £2,000. Stepping it up a gear, players who manage to complete 1 line, 2 lines and a full house will be credited with £5,000.
Each of the above prizes is available to the first players to hit these winning combinations. In other words the more players there, the more ways the pots get split. A great way to cash in on the action is to pre-buy bingo cards for the main game on 22 July at 9:30 PM UK time.
Auspicious Eights
888ladies is widely regarded among a large and ever increasing bingo audience throughout the UK and Continental Europe. This promotional offer is offered in tandem with other newbie promos such as the £25 welcome bonus.
With this offer, players can deposit £10, receive a £25 welcome bonus and play with £35. All manner of bingo games are available including 75 ball bingo, 90 ball bingo and 5 line bingo. Progressive jackpot bingo games are available too. Players with a penchant for casino games and slots games will find plenty to celebrate this summer at this prestigious gaming operator.
Related Articles