16-Year-Old Jessica Sails Around The World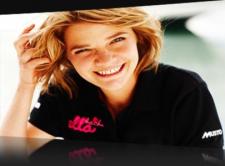 Australians have gathered around Sydney harbour to welcome back teenager Jessica Watson from her record round-the-world sailing adventure.

The 16-year-old is said to be the youngest person to sail non-stop, solo and unassisted around the world.

But her record has been questioned with claims that she has not sailed far enough.

She will also not be recognised by the World Speed Sailing Record Council, as it has ended its under-18 category.

Wearing pink

Ms Watson sailed into Sydney harbour on Saturday, seven months after leaving on an arduous voyage some critics said was too dangerous for someone so young.



Thousands of well-wishers lined the harbour and watched from boats as Ms Watson sailed her pink, 10m (34ft) yacht Ella's Pink Lady over the finishing line.

Family, friends and Australian Prime Minister Kevin Rudd have gathered to greet her. Many of the onlookers wore pink to match the boat.
Many more Australians are watching the event broadcast live on television.

"It's like the day before Christmas," she wrote in her blog before she arrived.

"Except I don't ever remember getting this excited about Christmas."

She left Sydney on 18 October, defying critics who said she was being irresponsible for taking on such a difficult voyage at such a young age.

Also meeting her in Sydney is Briton Mike Perham, who last year at the age of 17 completed his own solo around the world voyage in nine months.

Ms Watson's support team says she has sailed nearly 23,000 nautical miles but the influential Sail-World website said she had not gone far enough north of the equator to claim a true circumnavigation of the globe, according to the rules of the World Speed Sailing Record Council.

The council only recognises feats achieved by people over 18.

On her blog, Ms Watson said: "If I haven't been sailing around, then it beats me what I've been doing out here all this time!"

Ms Watson has reportedly sold her story to Rupert Murdoch's News Limited for A$700,000 ($625,000).