100-Year-Old Woman Sets Shot Put Record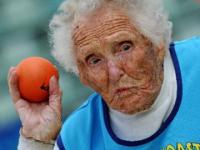 The oldest female athlete at the World Masters Games in Sydney has broken a world record in the shot put - at the age of 100.
All eyes were on Ruth Frith, from Brisbane, as she arrived for day two of the World Masters Games, hoping to win gold in the the shot put and feeling pretty confident as she was the only competitor in the over-100s category.
But her 4.07-metre (13 feet, 4.2 inches) throw on Sunday didn't just win her gold but also broke a world record.
"As long as I didn't foul I was going to win it," Ms. Frith told Reuters Television.
Click here to read the full story on The Globe And Mail

Related links:
World Masters Games