More Women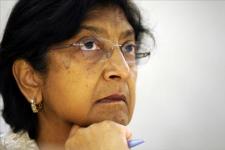 UN rights chief Navi Pillay called Monday for Muslim Gulf states to lift restrictions on women and to improve rights for millions of guest workers in the region.
"Women in the region are still unable to fully enjoy their human rights," Pillay, the UN High Commissioner for Human Rights, said on the first stop of a six-nation tour of the Gulf.
"Discriminatory barriers continue to hamper women's right to shape their own lives and choices, and fully participate in public life and be part of public debates that influence the direction of a nation," she told a small gathering at King Abdullah University for Science and Technology (KAUST) north of Jeddah.
On her first-ever visit to Saudi Arabia, she said other Muslim states in the world have improved women's rights via "dynamic interpretations of Islamic traditions."
In those countries, governments and Islamic legal experts "demonstrated that far from being innovations, such legislation was compatible with Islamic jurisprudence and, indeed, stemmed from it."
She specifically cited the practice of requiring women to have a male guardian to move around outside the home, to appear in court and often to engage in business.
Click here for the full story:
Maktoob.com
Photo Credit:
AFP
Related links:
More About Women's Rights On AWR