Lana Khalaf: Palestinian Educational Innovator
By Sara Rafai

Susan notes: Twenty-nine-year-old communications professional and blogger Sara Refai has a Masters Degree in Social Psychology, and has worked with political analysis companies, conflict resolution organisations, and PR agencies over the last six years. As part of the Lebanese diaspora, she has lived in both the Middle East and the West, where she's studied and learned about different cultures and how they evolve. In 2010, she went to Palestine to teach English.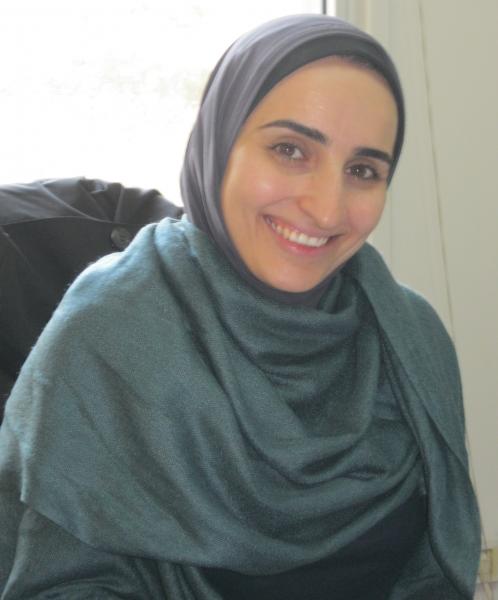 Lana Khalaf grew up between worlds. She was born in New Mexico to Palestinian parents and grew up around the South Western United States.

As they got older, Khalaf and her siblings found it difficult to align their parents" more conservative way of thinking with their American mentality.

"We were eventually sent to an international school in the West Bank for a few years of high school to get better acquainted with the culture.

It was an enlightening experience being with other Palestinian kids who had spent time abroad and thought like us. We felt for the first time that we actually belonged; that we fit in."

After returning to the US and completing high school, Khalaf realized where her heart was.

"My parents wanted me to study at a university in the United States, but I wanted to go back. I was aware of the value of an American education but saw great value in being a part of where one belongs and giving back to it."

She attended Birzeit University and completed a degree in marketing. A chance encounter led her to her future husband and a life in Nablus, one of the more conservative cities in the West Bank, and one that had been heavily affected by the occupation.

While raising a family, working and pursuing an MBA, Khalaf came into contact with a group of philanthropists who had formed the Future Pioneers Society, a local not-for-profit society looking at raising the quality of life for children in the West Bank.

Khalaf and the society members began looking at the traditional system of education in Palestine and how it could be improved to address the lack of opportunity resulting from occupation. They realized immediately that more needed to be done to give children the tools needed to create their own opportunities and become empowered members of society.

Most industries necessary for a nation's progress require at least a working knowledge of English. These include medicine, science, telecommunications, diplomacy and international trade yet Palestinian students were leaving school with little or no English.

Young Palestinians hoping to study abroad or become accomplished in their field of work were facing massive obstacles. Even those who managed to navigate the travel difficulties could not benefit from attending seminars, networking events or trade shows that would keep them abreast of the latest developments in their field. Even online research and reading trade publications was impossible for many.

"The system here is rote and very teacher centric. The children are asked to do a lot of memorizing and their creative thinking facility is neglected where it should be nurtured. There is no problem solving, no analyzing. The English, especially, is very weak.

They may know all the grammar rules but can't put together a sentence. They go to university without having learned how to write a paragraph. They lack technology skills, critical thinking, writing, and functional English. Forget our situation; it's our own education system that is letting them down."

The Pioneers Baccalaureate School (PBS) was developed with these gaps in mind. The first step was to recruit native English speakers from around the world.

"Internationalizing the department helped a lot because the children were learning from native speakers. It made all the difference to pronunciation, language usage and understanding the language from the inside out.

We worked on adding activities to the Palestinian curriculum; to make that rigid, solid program simple, fun and easier to absorb. We use school trips, community service, gardening, singing songs and enriching the curriculum with any kind of activity we can to encourage the children to be engaged, confident learners. "

It was a struggle in the beginning. Finding parents who saw the benefit of sending their children to a new school with an English department made up of foreign teachers required persistence. PBS held a free English learning summer camp before opening its doors and saw the student roster increase by over 100% when the parents saw the change in their children. They were progressing quickly. They were motivated to go to school and they wanted to participate in a wide range of activities both in and outside of school hours.

As the years went by, Khalaf realized that the students were flourishing within the Pioneers' communicative approach to education.

"It got me to thinking about the rest of the children in Nablus. Not everyone in Nablus can afford our tuition fees but I don't believe that should exclude them from a chance to acquire the tools to better their lot in life. I wanted to be able to extend what we have at Pioneers to every Palestinian child. That's where the idea for Teach for Palestine was born."

Teach for Palestine is an after school program run by volunteers that provides free English classes to all of Nablus's children using the same approach to language learning as Pioneers.

Here's what the students have to say about the programme:


"Everybody wins. International volunteers get the chance to learn about Palestine and the life here first hand and the children get great, passionate teachers. In a place where cultural exchange is practically zero, the children don't just learn English, they get to know other cultures, often for the first time.

They are exposed to different ideas and perspectives. Our classes are full and these children come voluntarily every single day. They coming because they feel they're learning something that will benefit them and they love it."

TFP is now on its second year and Khalaf hopes to expand it to other cities in the West Bank.
"I want our children to be able to communicate with the world. To communicate their feelings, their problems, their point of view of what's going on here and be part of a solution for our country. Our dream is to give our children a solid education that will open doors for them while still instilling in them a sense of social awareness and a love for their country.

I believe that the youth is the starting point to any kind of change in our society, economic or social. If we are able to teach them how to think; teach them values, the ability to adhere to law and, especially, discipline - that's a first step in overcoming a lot of the problems that we see in our streets."

Through dynamic education programs such as Teach for Palestine, amazing women like Khalaf help to make our world a more hopeful place for today's youth.

Twenty-nine-year-old communications professional and blogger Sara Refai has a Masters Degree in Social Psychology, and has worked with political analysis companies, conflict resolution organisations, and PR agencies over the last six years. As part of the Lebanese diaspora, she has lived in both the Middle East and the West, where she's studied and learned about different cultures and how they evolve. In 2010, she went to Palestine to teach English.

Related Links:
Teach For Palestine
Pioneers Baccalaureate School
Other AWR Articles By Sara Refai