Easter Seals Study Finds Living With Disabilities A Challenge For Many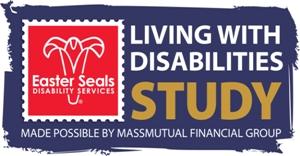 Those of us who live in the United States often take the basics of daily adult life for granted. In most cases, we have a place to live access to transportation, money and an education that helped prepare us for the adult world.

But what happens if you're one of the millions of American adults living with a developmental disability? How is your life different? Are the basics covered?

As a leading provider of services for individuals with autism, developmental disabilities and other special needs in the United States, Easter Seals knows how challenging life for someone living with a disability – and his/her family – can be.

The Easter Seals Living with Disabilities Study, made possible by MassMutual Financial Group, provides insight into the lives of individuals with disabilities and the everyday challenges their families face.

Some key findings from the study show that parents of adults with disabilities are very concerned about the following aspects of their adult child's lives:

Finances 74% of parents don't see their adult child with a disability as financially independent; while more than half (52%) of parents say their adult children without disabilities are financially independent.

Employment Only 11% of parents of adult children with disabilities report their child is employed full time (or 19% part time), while 48% of parents of adults without disabilities report the same (or 24% part time).

Easter Seals is using key findings from this study to help raise awareness of the life-long services families desperately need – including school to work transitions, employment support and financial planning.

You can find out more about the study by visiting a special webcast link where actor Joe Mantegna of the hit TV series "Criminal Minds" tells his story about his own adult daughter who is living with autism.

Learn more about the Living with Disabilities study by checking out this special webcast.

Families living with individuals with disabilities can also check out MassMutual's SpecialCareSM Program, which gives families with individuals with special needs access to information, specialists, and financial strategies that can help improve their quality of life.

Easter Seals has been helping individuals with disabilities and special needs, and their families, live better lives for nearly 90 years. From child development centers to physical rehabilitation and job training for people with disabilities, Easter Seals offers a variety of services to help people with disabilities address life's challenges and achieve personal goals. Easter Seals global partners include Ability First Australia, CONFE in Mexico and Easter Seals Canada.